Klewel in Shanghai with the WBCSD
WBCSD Annual Council Meeting in China Focuses Global Sustainable Development on "Green Race"
SHANGHAI, November 2, 2010 – CEOs and representatives from some 200 global businesses convened today in Shanghai for the annual Council meeting of the World Business Council for Sustainable Development (WBCSD). The meeting focused attention on the emerging "Green Race" to develop innovative business solutions designed for an increasingly resource constrained world. WBCSD members talked about ways to accelerate this development within their companies and within the countries in which they operate.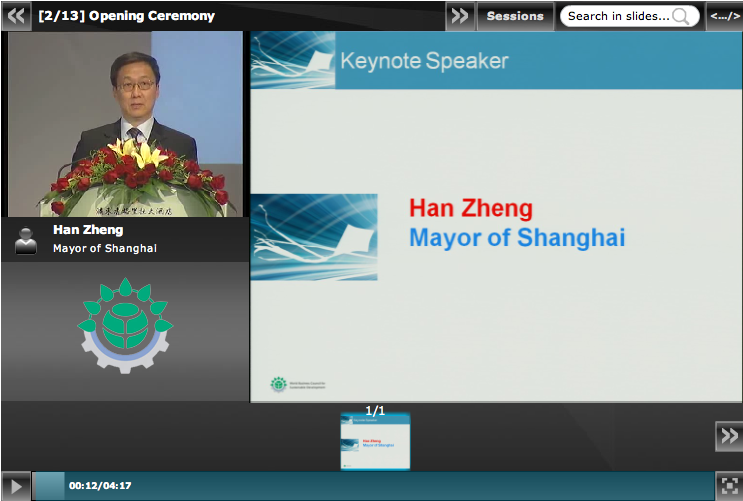 Private Webcast – Mayor of Shanghai
"The Green Race is no longer a nice-to-have option. Both countries and companies are beginning to understand that measures to stimulate economic recovery and growth need to be green", WBCSD Chairman Jorma Ollila told the articipants. "Not only is the world population set to grow to over 9 billion by 2050, but the average living standard is also improving. Couple these developments with limited available resources and it becomes clear that we have no choice but to find ways to grow which are low carbon and resource efficient. It would be disastrous if, in our desire to restart the economy as quickly as possible, we lose sight of this reality. Rather than building on the lessons from the past, we'd simply be setting ourselves up for the next problem; a problem that will be much larger."

Private Webcast – WBCSD President
Building on these remarks, Björn Stigson, WBCSD President, used his opening statement to highlight that the current economic turmoil offers an opportunity to accelerate the development of low-carbon and resource-efficient growth options and thus ensure a healthier future. "Earlier this year, the WBCSD published a multistakeholder study called Vision 2050 that addresses the green growth options. The good news is that, according to our study, a sustainable world with 9 billion inhabitants is attainable; provided all members of society, including business, get together and act with a clear understanding of the challenge in mind."
The selection of Shanghai as the location for this year's Council meeting is particularly significant given the rapid changes being experienced in China and throughout Asia related to sustainable development. China is clearly developing into one of the leaders in the green race.
"Some of the most exciting transformations are occurring in those countries that recognize the links between growth, innovation and sustainability," said WBCSD President Björn Stigson. "China is one place where it is very clear that the Green Global Sustainable Development on "Green Race" Race is on. In China, as in other Asian countries, we see a growing awareness of the business opportunities in green growth."
The leadership role played by China, on issues ranging from domestic growth and consumption to the development of cost efficient renewable energy resources and low carbon technologies, were the subject of multiple CEO-level exchanges as WBCSD member companies evaluated opportunities to advocate for a strong business role in meeting global sustainability challenges.
This year's Council meeting opened with perspectives on the vital role of China in sustainable development, with insights from Wang Zhongyu, President of the China Enterprise Confederation, .Li Rongrong, Former Chairman of the State-owned Assets Supervision and Administration Commission of the State Council, and Han Zheng, Mayor of Shanghai. "We wish to express our sincere gratitude to Mr. Wang Zhongyu, Chairman Li and Mayor Han for their strong support for the WBCSD and their ongoing interest in sustainable development issues," said WBCSD Chairman Jorma Ollila.
Following the formal Council meeting, representatives from member companies are spending three days in working groups to review and advance the entire work program and to discuss potential new projects and initiatives that seek to find business solutions to sustainability challenges. In addition, the Future Leaders Team 2010, WBCSD's sustainability training program for high potentials in member companies, will deliver its final recommendations on how collaborative innovation can help achieve Vision 2050.
About the World Business Council for Sustainable Development (WBCSD)
The WBCSD is a CEO-led, global coalition of some 200 companies advocating for progress on sustainable development. Its mission is to be a catalyst for innovation and sustainable growth in a world where resources are increasingly limited. The Council provides a platform for companies to share experiences and best practices on sustainable development issues and advocate for their implementation, working with governments, non-governmental and intergovernmental organizations. The membership has annual revenues of USD 7 trillion, spans more than 35 countries and represents 20 major industrial sectors. The Council also benefits from a network of 60 national and regional business councils and partner organizations, a majority of which are based in developing countries.
www.wbcsd.org