Webcast: No Mind Left Behind – Social Brain 3 Conference
Back in December 2009, I met Sophie Dow at our Klewel stand at EIBTM 09 in Barcelona (read the Klewel post). EIBTM is one of the largest world tradeshows for the conference industry including business tourism.
Mindroom was founded by Sophie Dow, whose daughter Annie is 20 years old and has severe learning difficulties as a consequence of a chromosomal deletion on Chromosome 1, the 'short arm'. MindRoom is a Scottish charity and its vision is a country in which all adults and children with learning difficulties receive the recognition and help they need.
More than a year later, Klewel was in charge of webcasting the No Mind Left Behind – Social Brain 3 Conference at the Glasgow Royal Concert Hall.
Register to get access to all the conference videos.
Photo for the press release in Glasgow a few weeks before the event: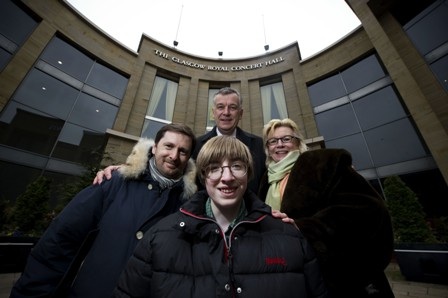 Annie Dow (bottom centre), 20, daughter of Sophie Dow (right), Founder of Mindroom, joins Alessandro Vinciarelli (left), Lecturer at the University of Glasgow and developer of the Klewel virtual conferencing software for NMLB and Scott Taylor (top), Chief Executive of Glasgow City Marketing Bureau.
Article about this conference and about Klewel: the virtual conference tool: Major International Conference Brings New Virtual Conferencing Facility And A Record Number Of World-Leading Learning Difficulty Experts To Glasgow