The Swiss society of Neonatology's goals are to foster neonatology in Switzerland, improve the quality of neonatal care and represent the interests of newborn infants in the public. Looking back at the 2018 meeting in Berne recorded and published by Klewel available publicly for free to all.
The 2018 Annual Conference of the Swiss Society of Neonatology addressed Hot Topics in Neonatology, including pros and cons of new, less invasive respiratory support strategies such as high ow nasal canula and less invasive surfactant administration and the use of stem cell therapy in perinatology. Young pediatricians and neonatologists as well as nurses, midwives and obstetricians actively participated and presented their research. All the presentations, slides, videos are accessible to all.
A series of 2018 Awards of the Swiss Society of Neonatology were distributed.
Every two years, the Fred Bamatter Award is presented at the Annual Meeting of the Swiss Society of Pediatrics (CHF 20'000.-). The aim is to reward clinical and basic research in Perinatology. The perinatal period should be taken in the widest sense of the word, including the prenatal (embryo and fetus), birth, postnatal and follow-up periods. Professor Fred Bamatter (1899-1988) was an outstanding clinician, teacher and researcher. During his lectures, he always tried to link clinical practice to scientific knowledge. Thus, the priority will be given to researchers who attempt to make the same link.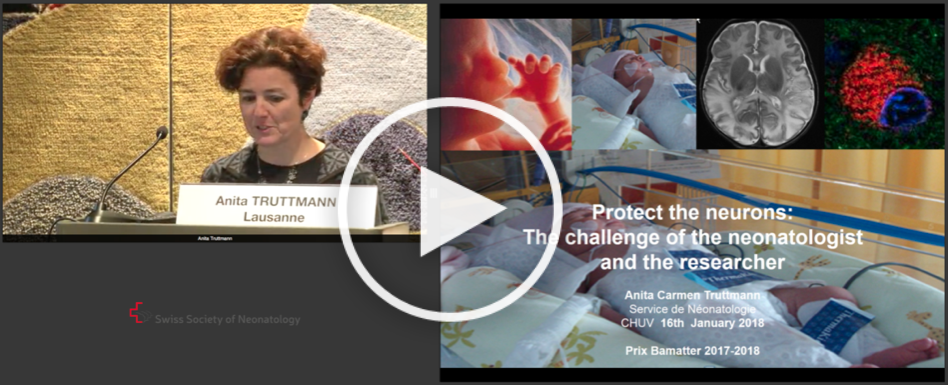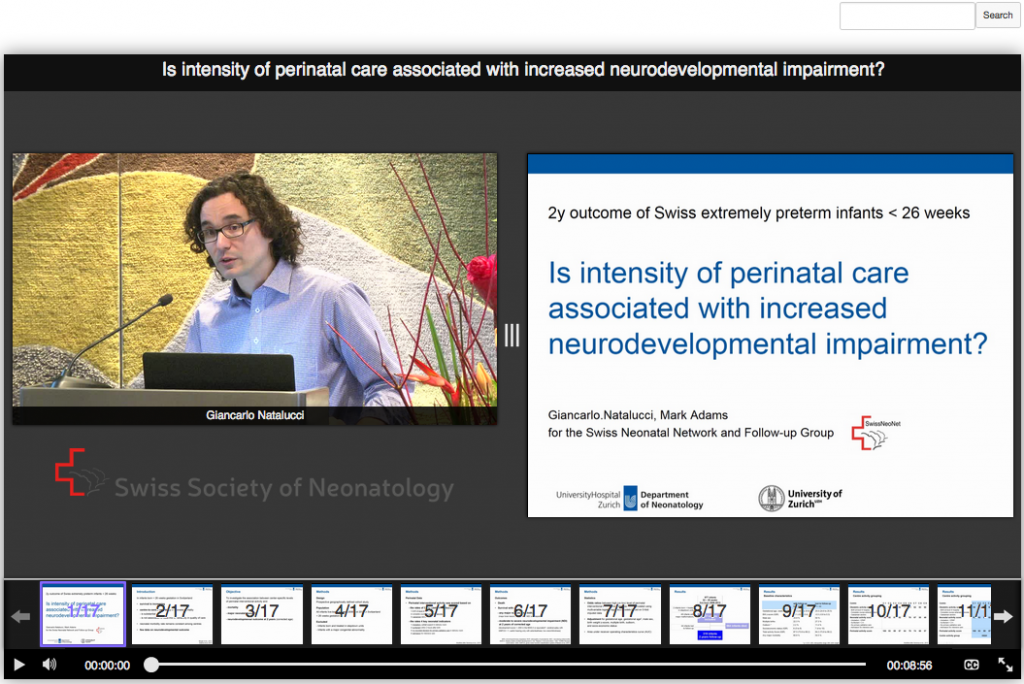 1st Annual Humanitarian Neonatology Grant – Thomas M. Berger, Sabine Berger (Lucerne)
NEO FOR NAMIBIA – Helping Babies Survive
Improving neonatal respiratory support at Rundu State Hospital
Best poster presentation – Tonja Restin et al. (Zurich)
Fetomaternal transfusion syndrome as a cause of severe neonatal anemia
Case of the Year Award 2017 – Odalys Alfonso Deliz et al. (Rundu, Namibia)
Life and death of a butterfly child born in a resource-limited country
Other links:

About Klewel:
Klewel offers the latest end-to end webcasting services. This allows your events and lectures to be shared publicly or privately, to give your organization the visibility for events and lectures on the basis of a totally innovative IT solution, which automatically records and indexes all the content (audio, video and slides) presented at conferences and university lectures. Audio streams, video content and slides shows are stores in a synchronized manner. As an optimal blended learnig solution, Klewel's vision is to democratize lifelong learning via technology-mediated instructions. Klewel gives long term value to lectures, worshops, symposia, conferences, congresses of all sizes. Do not hesitate to contact us!