This week Klewel is inviting you to look into another VentureLab event, the 7th Pizzas&Start-up at the Parc Scientifique at EPFL. This unique event, organized twice a year, lets us hear from 3 different start-ups. Describing how their business works, what is their edge over their competitors and ultimately how to run a successful business. The presentations are short and precise to keep the interest levels high, because – as you see from the title – there are some pizzas at the end. This small lunch creates an excellent opportunity for attendees to network and ask their questions directly from the presenters as oppose to sit and listen to what they have to say. VentureLab is an outstanding organization supporting entrepreneurship by providing tools to help the students see all the different possibilities that come from starting your own venture.
This editon of Pizzas&Start-up presented 3 entrepreneurs on the 25th of September 2013. The first presenter was Nasser Hefyene, the CEO of DNAWatch, a new firm that offers a smart, new anti-counterfeiting solution for luxury watches. We also were able to hear from Kian Rieben, who presented Faveeo, a collaborative web and social media monitoring platform. The third presenter was Thomas Laurent from Akselos, a solution that offers to easily build complex models from validated simulation components. You can see each presenter's unique idea by clicking on the video below.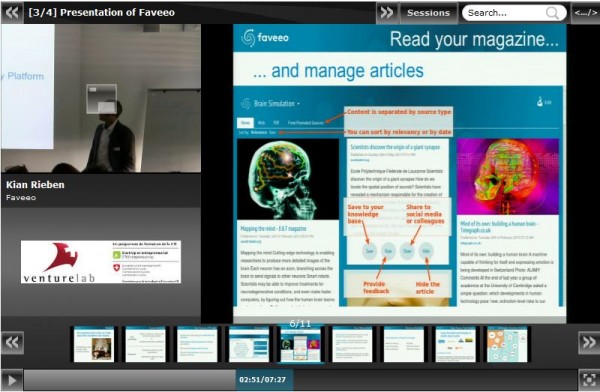 Klewel is very delighted to provide technical support to VentureLab by recording the presentations and ultimately saving all the knowledge and expertise of these priceless presentations. Triskel capture station and webcasting platform was used to webcast this edition of Pizzas&Start-up at the Parc Scientifique at EPFL. Triskel capture station and webcasting platform is the product of Klewel advanced webcasting solutions.