Give your upcoming event the broadcast it deserves
SWISS-BASED VIDEO CAPTURE, LIVE STREAMING, AND WEBCASTING SERVICES
Working closely with you to make your event a success. Reliability, quality and customization are in Klewel's DNA. Harness our expertise, and we'll elevate your conference to a source of inspiration.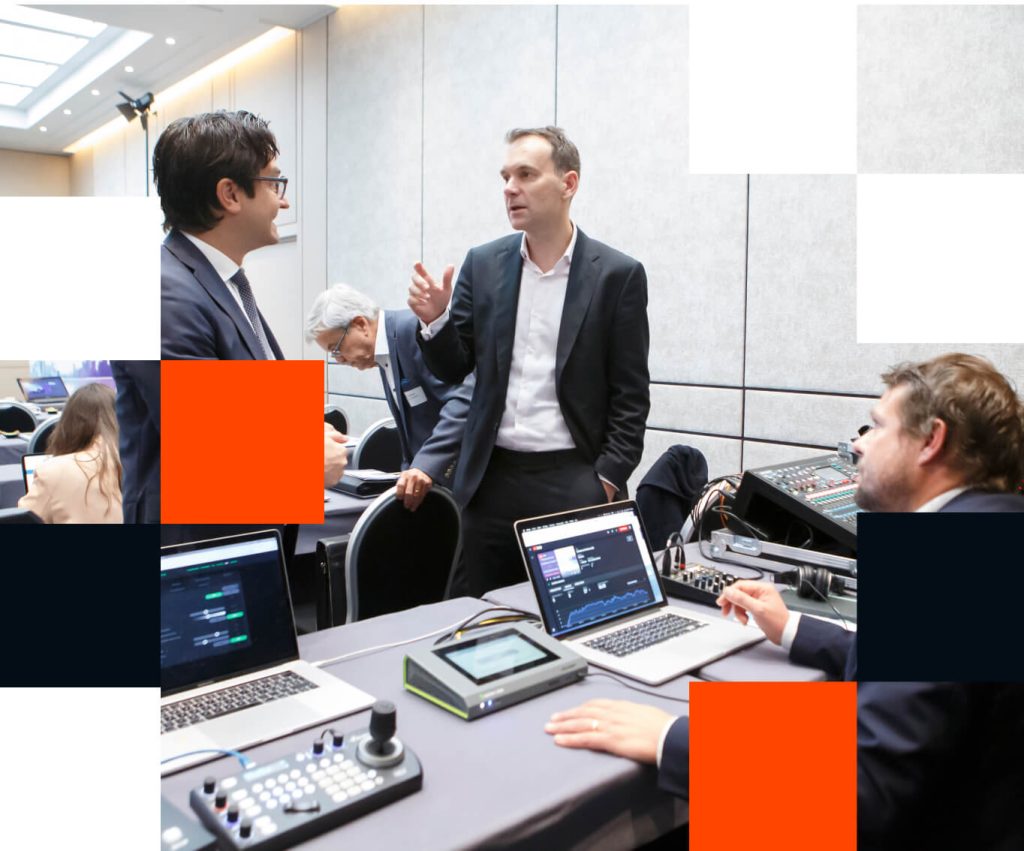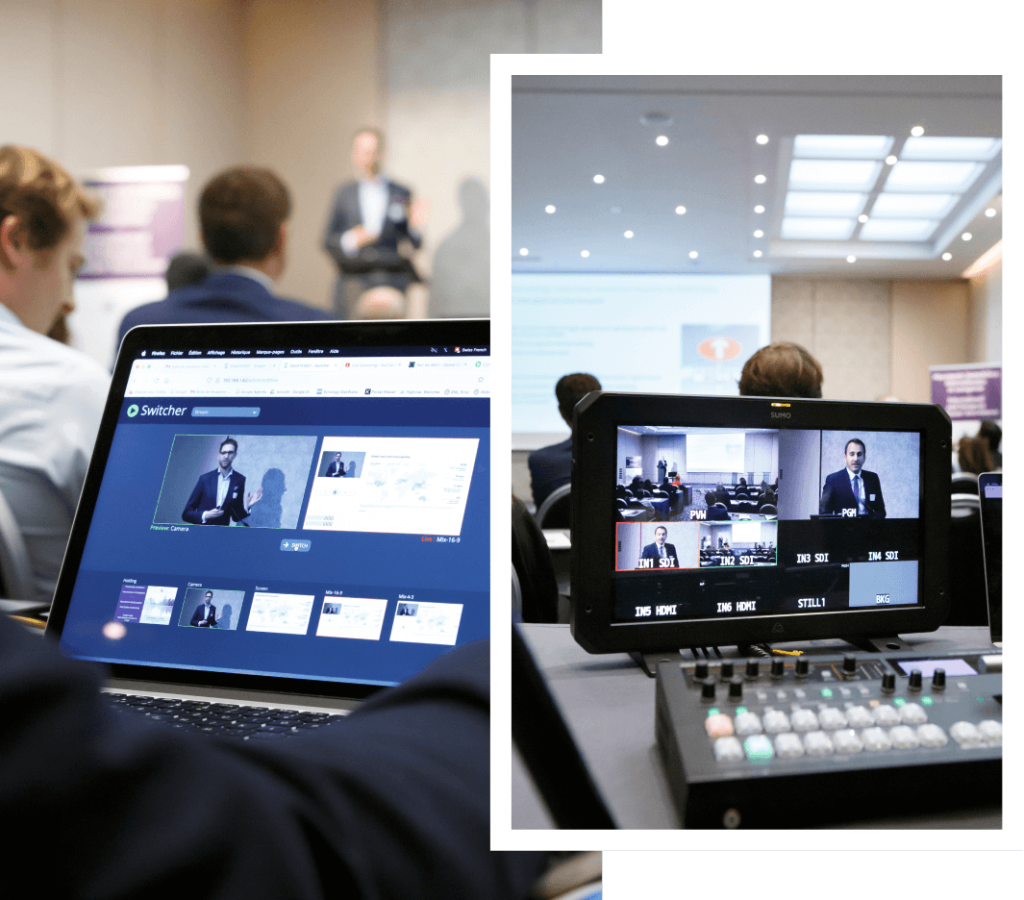 A SECOND LEASE OF LIFE FOR YOUR EVENT
Promote your conference or seminar. Make the most of this investment: broadcast it live online and later on-demand. Whether your conferences are for a wide audience or internal use, we exercise our expertise to meet your expectations and achieve your business goals.
Wherever your audience, whether your speakers are on-site or remote, you benefit from our expertise in hybrid events. We cater to clients in Switzerland and abroad, creating webcasts of events for audiences to enjoy online. We devote all our resources to promoting your event.
Klewel services & solutions
Your next event deserves the best visibility. We can ensure that you get it.
Experienced, reliable and rigorous, we respond rapidly with dedication to meet your expectations.
An experienced team able to offer you the best exposure
Our audio, video, and IT teams oversee the entire technical side of your event: recording, lighting, sound, projection, live streaming, and replay. But that's not all! We also handle other aspects such as audience interactivity, simultaneous translation, and even publicising your sponsors.
Since 2007, we have been producing audiovisual content for events and enhancing it through live streaming and webcasting. We are based in Switzerland and have covered events in 40 countries.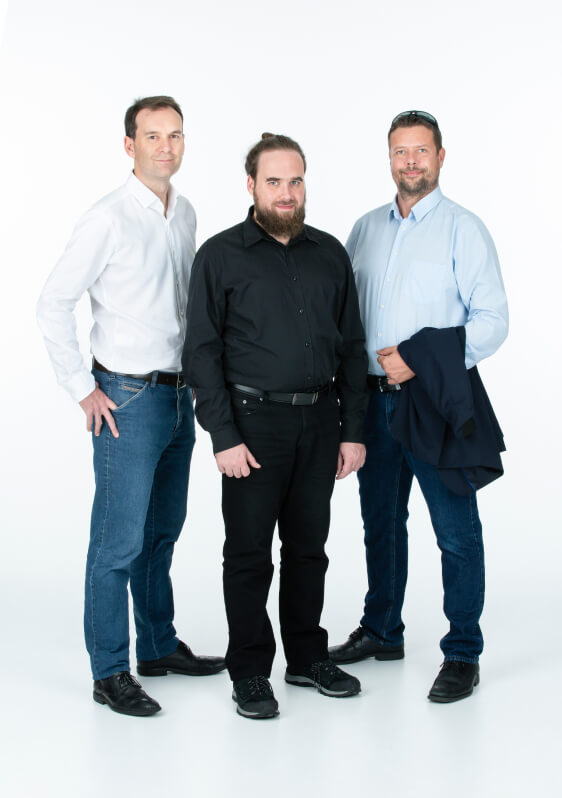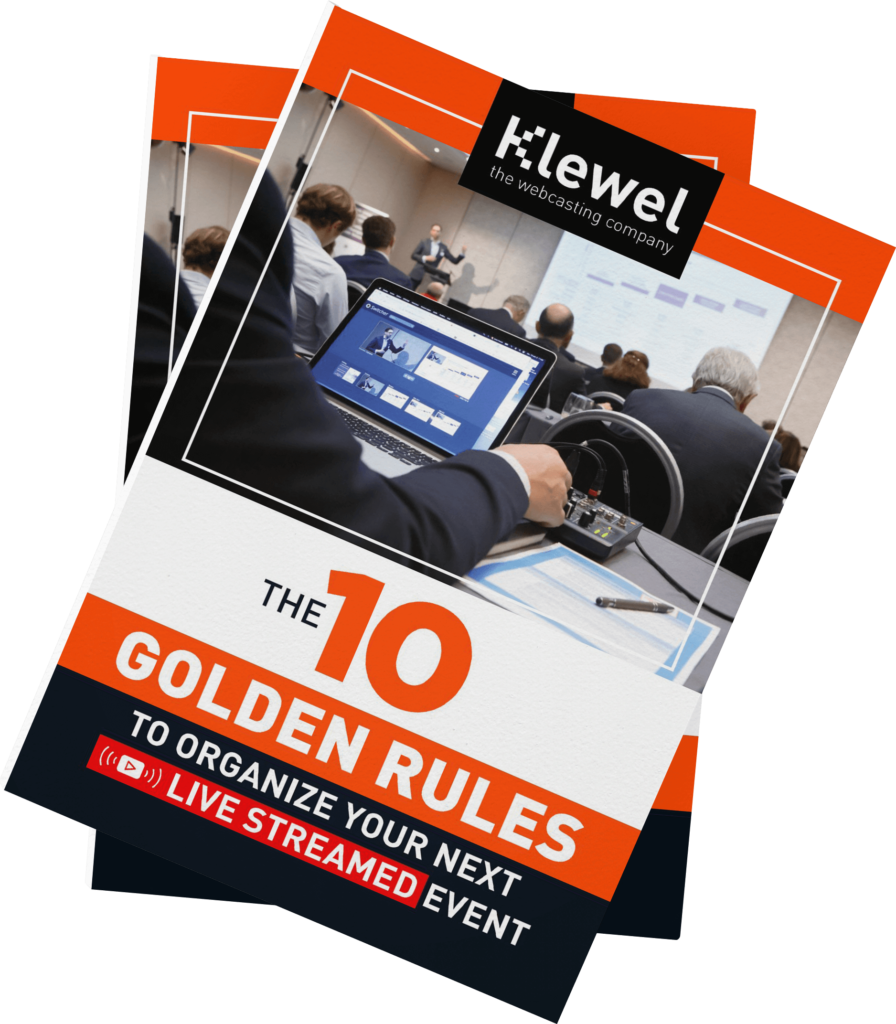 Download our free event organizers' live-streaming guide
Hundreds of conference organizers have already trusted us. Based on these experiences, we put together ten golden rules to ensure the success of your next streaming event.
At your service, your boutique audiovisual agency.
hours of live broadcasting
Why entrust us with the technical management of your event?
AUDIOVISUAL, LIVE STREAMING, AND WEBCASTING SERVICE PROVIDERS – SWISS-BASED
Reactivity
Our experience allows us to react immediately to any eventuality. Our recordings are quickly available online –  an invaluable asset for your post-event communication.
Reliability
Your requests are our greatest challenges. From recording to broadcasting, from unusual places to large auditoriums, our knowledge of event technology allows us to offer you tailor-made solutions.
Reliability
Before, during and after your event, our mission remains the same: the deployment of professional teams, the use of proven technologies as well as thorough and outstanding support.
Quality
Are you looking for top experts for high-end technical services? Take advantage of our 15 years of experience and thousands of success stories worldwide. You deserve excellence.
Klewel, a global presence
Forty countries on five continents and fifteen years of experience
They have collaborated with Klewel!
Our clients are active in all sectors, holding events of all sizes.
Klewel was in charge of the webcasting at the WHS (World Humanitarian Summit) in Geneva and the services were rendered in a perfect and very professional way. They have the best technological equipment and skills to provide very professional webcasting services. No negative points to mention. Always reachable with quick response and feedback. Very well organized, and always willing to adapt their work in unexpected situations and meet deadlines.
@Klewel Thank you for your excellent work last Tuesday. I have already received feedback from several members, all positive, about the technical organization including the voting. The clinic leaders had the good idea to set up in our meeting room (corona conforme) and project the general assembly by beamer on a large screen, allowing other people, including our assistants, to participate. It was great. Thank you for the very thorough work.
@Klewel On behalf of the Lusenti Partners team, I would like to thank you for the "impeccable" technical execution of this week's event, which contributed greatly to its success, and which was widely praised by many participants! I enjoyed again working with your very competent, professional and available team!
@Klewel Thank you very much for the perfect teamwork we had. I want to thank you and your company once again for the good cooperation.
Resources on webcasting, live streaming, and audiovisual event production
16 March 2023
Webcasting and webinars are two popular forms of online communication that are often used for different purposes. While they may seem similar at first glance, there
[…]
16 March 2023
There are several definitions of the term webcast. In the same way that Klewel is a contraction of 2 Breton words klevet (to hear) and gwelet
[…]
16 March 2023
What is live streaming? The video of your event is broadcast simultaneously with its capture, to whoever you want. You choose your audience, without space constraints,
[…]