Report from the ICCA congress 2011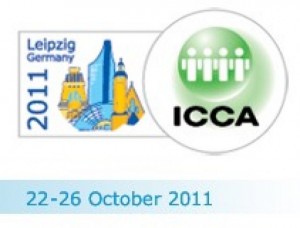 Klewel participated to the 50th ICCA world congress in Leipzig, Germany, as a member of this international association. ICCA stands for International Congress and Convention Association and is the global meetings industry network. Each year, Klewel participate to this important event. Last year it was in India and two years ago in Italy. Next year will be in Puerto Rico.
The meeting support institute was represented by the presence of its president Maarten Vanneste who moderated a session on hybrid meetings.
The closing keynote was terrific, by Dr. Kjell A. Nordström. The Copenhagen – Denmark Lecture: 10th anniversary celebration


Dr. Kjell A. Nordström is the enfant terrible of the new world of business. He talks to audiences all over the world, he writes books and articles and reads –everything from Playboy to Architectural Digest to Pinter. His performances are high touch, dynamic, highly interactive, thought provoking and always in line with time. The 2009 Thinkers 50, the biennial ranking of management thinkers, ranked him at number 23 globally and put him on the top-five list in Europe. His dynamic style makes him a highly appreciated speaker throughout the world.
Many very interesting ideas were developed. One of which is the following "capitalism is a machine". "A simple machine that only do one thing. It sorts efficiency and inefficiency".
According to Dr. Kjell A. Nordström the upcoming world trends are:
* Food and water is back in the global agenda as much as energy.
* China can build all: bicycle, cars, any products… However the competitive advantage of Europe is its open liberal democracies.
* More woman in Universities will change the face of the world
* Single: Society is moving from a Family-based society to a single-based society. 64% of single housing in Stockholm. 75% of single housing in some parts of Stockholm. 52% of single housing in Sueden.
* Future life is in cities. In 2040: 80% of people will live in cities. Cities host cultural, universities, factories etc.
* Innovation. Innovation is a creative destruction of the established order. Innovation is the success of America. Apple (with the iPhone revolution) is destroying Nokia (4'000 employee cut last week). The USA will continue innovation. US is difficult to understand even for US. USA is NOT a country, it is an IDEA, with its life style, innovation. Why will they succeed ? Because you need 3-5 years to become an american. You need 100 years (3 generations…) to become european. And to become japanese ? According to one of his friend, the answer was "no way, impossible !" 80% of people in silicon valley are not born in the USA. The secret of the US: they can re-invent themselves.
———-
"Glasgow Model" won the ICCA Best Marketing Award
A joint entry from Glasgow City Marketing Bureau and the Scottish Exhibition and Conference Centre won the ICCA Best Marketing Award 2011. The winner was announced during the closing session at the 50th ICCA Congress in Leipzig, Germany.
more info
Another related story: Glasgow awarded for winning trust of US conference organiser, Congrex info.
The ICCA Best Marketing Award, established in 1997, recognises the excellence and outstanding achievements of organisations in their effort to market their destination or product. Entries can range from full scale campaigns and branding exercises to individual promotions and events.