Students invite themselves at the parliament in Austria
Sankt Pölten, Austria.
Tom Bläumauer is an event organizer in Austria. His company That's the way (Eventmanagement und Moderation) organize events for the local political parliament amongst other institutions. He is also a player of volley ball passionated by this sport. He heard about Klewel while he was watching the FIVB World Congress webcast.
In mid-february, a special event was organized. Young students took the place of politicians, to talk about energy, media and the European Union.
In German: Jugendenquete "Politik hört zu"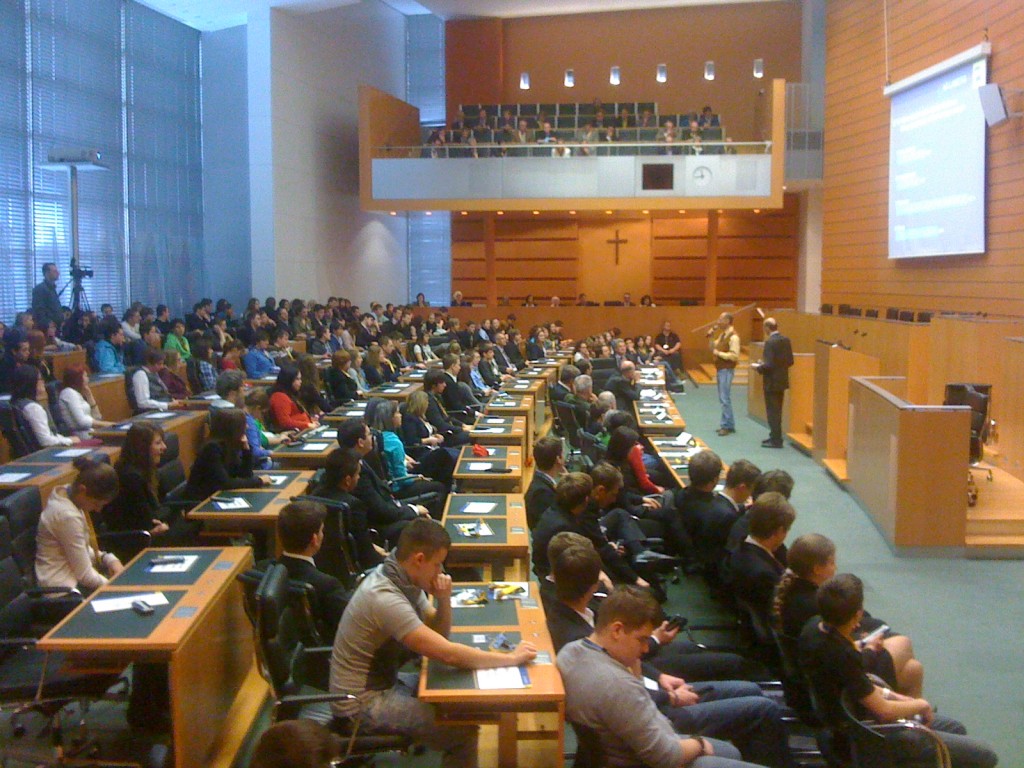 Click on the image to play back the presentations from the students:
The audiovisual agency we worked with was Wallner Sound Setup.
Program in German:
"Politik hört zu" fand nunmehr zum zweiten Mal im NÖ Landtag statt. Ziel dieser Veranstaltung war es, die Meinungen und Überlegungen von jungen Menschen zu wichtigen gesellschaftspolitischen Herausforderungen zu erfragen. Wie das Motto schon nahe legt: Die Politik soll zuhören. Der NÖ Landtag will damit einen Beitrag zur politischen Bildung in Niederösterreich leisten.
"Politik hört zu" ist eine Initiative von Landtagspräsident Ing. Hans Penz mit folgenden Kooperationspartnern:
Landesschulrat für Niederösterreich
Pädagogische Hochschule Niederösterreich
NÖ Landesakademie
Tageszeitung "Die Presse"
Besonderer Wert wurde darauf gelegt, eine ausgewogene Mischung zwischen berufsbildenden und allgemein bildenden Schularten zu ermöglichen. Durch die enge Zusammenarbeit mit dem Landesschulrat und der Pädagogischen Hochschule NÖ sollen die Erfahrungen und Ergebnisse auch in die Lehreraus- und -fortbildung mit einfließen.
Aus den Rückmeldungen der Schüler vom letzten Jahr wurden folgende Themenstellungen identifiziert, zu denen die Schülerinnen und Schüler ihre Präsentationen und Statements entwickelten und am 15. Februar 2012 abgegeben haben:
Energie & Umwelt
"social media" – Verantwortung
Was wird aus EUropa?
Die Statements der Schülerinnen und Schüler wurden wieder von Prof. Filzmaier während der Veranstaltung aus Sicht der Meinungsforschung und Politikwissenschaft kurz kommentiert.