How Triskel can help you in adding value to your events?
What is Triskel ?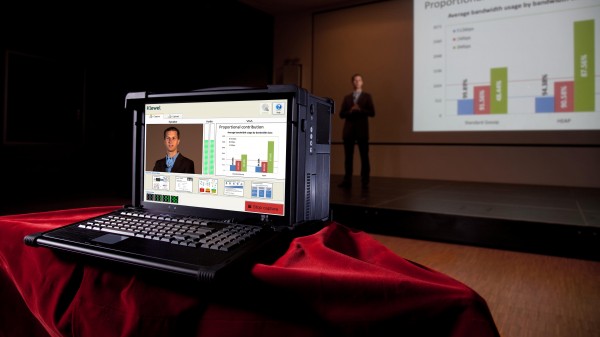 Triskel is our main product. It is a comprehensive webcasting solution. We have been using it for the last five years. We have enhanced it year after year and we now allow third parties to make use of it and webcast their conferences. Why? Because we simply cannot go everywhere and because we are convinced that this solution can help audio visual companies to webcast events such as conferences, congresses, workshops.
If:
You are an audio visual agency or system integrator
Your clients organize conferences, congresses, workshops,
You want to provide a value added service to your clients and you want to help your clients getting visibility and effective knowledge management related to the content shared at their events
You are looking for a professional webcating partner
You want a simple, easy-to-use automated way of recording, synchronizing audio, video, projected presentations, and a way to publish the content online for your clients,
Then we can help you.
Here is more information about our product. Contact us for a quote.
Klewel proposes a comprehensive webcasting solution, complete with an audio-visual recording station linked to a web platform that makes it possible to automatically reference, edit and publish content (audio, video, slide shows) in total simplicity. In addition, the content of each presented slide is also indexed. Each event is accessible anytime, anywhere (at home, at the office or elsewhere) and can be viewed on all types of media: computer, mobile phone, tablet, etc.
You can purchase a Klewel station and record your events at your convenience, with Klewel ensuring automation of the web service, in particular the publication. Contact us for a quote
By acquiring the Triskel capture station, you, as an audiovisual agencies, can rely on an efficient webcasting system, which is easy to use and in step with today's market.
The Triskel station can be used with a microphone (or the output of a mixing console) and a camera (or the output of the audiovisual control room). Recording of each event starts and stops at the simple press of a button. Once recording is complete, data is automatically uploaded to a server. The Klewel solution references all event content (including audio, video and projections). The content of presentations is automatically indexed. Before being broadcast on the desired medium, the pre- sentation can be personalised at will. One click and it's online ! Contact us for a quote
The Triskel station is available as a portable computer or it may be delivered in a customised form to meet your needs.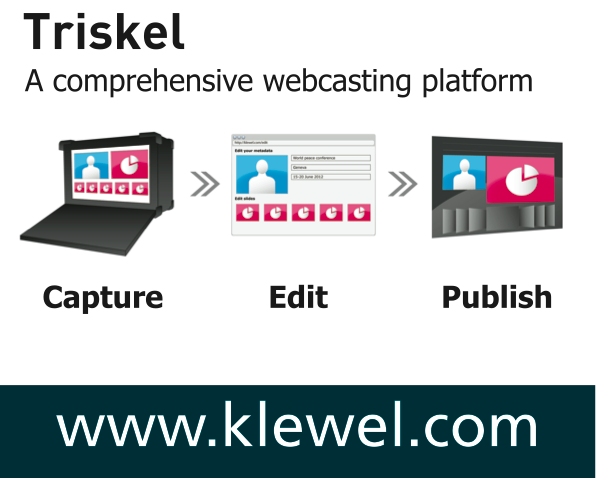 Interactive Internet Access
The event can be viewed shortly after it has finished.
The slide show presented by each speaker accompanies the video ; synchronisation is guaranteed.
The search engine can find a key moment in the presentation ; viewing of the entire event is not necessary.
Identification of each speaker / affiliation / sponsor is optimal.
Navigation is simple ; chaptering follows the slide show.
Cutting-edge technology…
The solution developed by Klewel obtained the European label of e-excellence at the international CeBit forum. It was selected as a finalist at the Innovation Award organised by the International Association of Congress Centres (AIPC). Contact us for a quote
… easy to use…
Whether you ask us to record your events or do it yourself with the Klewel station, our webcasting solution is extremely simple to use. Only a basic knowledge of computers (and/or audiovisual wiring) is required.
… offering multiple benefits
Klewel not only keeps your presentations alive but also ensures that they can be:
consulted quickly and clearly, and easily retrieved (search engine)
personalised at will, directly integrated in your website
viewed on all types of media (computer, tablet, mobile phone)
accessible online (general public) or via Intranet (protected)
If you are interested in getting a demo and more information about Triskel, do not hesitate to contact us.