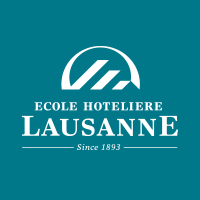 Klewel closely collaborates with EHL, the world's n°1 school in hospitality management. EHL came up with a very innovative project management idea of sharing their desire for a new campus and collaborating with ten different universities' architectural faculties to join in and pitch their ideas for the new campus.
Since January 2013 the Ecole hôtelière de Lausanne has organised an international work group which brings together 385 students from 10 schools and universities of architecture around the world.

The Ecole hôtelière de Lausanne started this ambitious new campus development project which reflects its strategy of growth and innovation and its constant quest for improvement.
Ideally placed to best understand the issues involved, these students will propose their ideal vision of the multicultural and transgenerational campus. Multiculturalism is part of EHL's DNA as it hosts 80 different nationalities.
The approach aims to enhance the assets of the school by amplifying the dynamic that is created among students as soon as they arrive. The EHL Executive Committee is managing this project and will be assisted by the Swiss architects Richter & Dahl Rocha who will check the feasibility of the programme proposed by students.
In additional to eminent professors involved in this process, like Pr. Francisco J. Mangado Beloqui, EHL will also welcome the participation of a world famous consultant: Professor João Nunes, an expert in landscape architecture and preservation of landscape quality.
Klewel was there to archive the best ideas that were exposed on their international forum that took place between 2nd and 5th of July in Lausanne at EHL. The success of this project was measurable by the excitement of the students arriving from all over the world to EHL to expose their ideas of a new, more livable and environmental friendly structures.
Check out this Youtube video that was produced by Klewel to get a feel for the forum:
You can also check Klewel's webcasting from the event: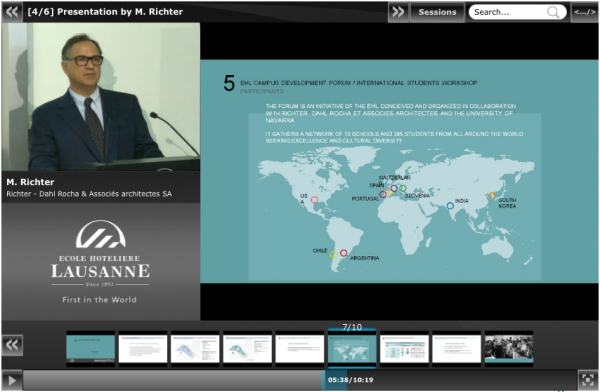 More about this project: https://www.ehl.edu/eng/About-us/Press/Press-releases-2013/Campus-development-forum
Klewel proposes a comprehensive webcasting solution, complete with an audiovisual recording station linked to a web platform that makes it possible to auto- matically reference, edit and publish content (audio, video, slide shows) in total simplicity. In addition, the content of each presented slide is also indexed.
Each event is accessible anytime, anywhere (at home, at the office or elsewhere) and can be viewed on all types of media: computer, mobile phone, tablet, etc.
You can: