ACM is widely recognized as the premier membership organization for computing professionals, delivering resources that advance computing as a science and a profession; enable professional development; and promote policies and research that benefit society.
SIGCHI is the premier international society for professionals, academics and students who are interested in human-technology & human-computer interaction (HCI).
The ACM SIGCHI Conference on Human Factors in Computing Systems is the premier international conference on human-computer interaction.
Multiple sessions in parallele were recorded at the last CHI 2013 conference in Paris using Triskel webcasting platform.
CHI 2013 was about changing perspectives: researchers draw from the constantly changing perspectives of the diverse CHI community and beyond, but they also change perspectives, offering new visions of people interacting with technology. The conference is multidisciplinary, drawing from science, engineering and design, with contributions from research and industry in 15 different venues. CHI brings together students and experts from over 60 countries, representing different cultures and different application areas, whose diverse perspectives influence each other.
General Conference Chair: Wendy E. Mackay, Research Director, INSITU lab, INRIA, France.
Technical Program Co-Chair: Patrick Baudisch, Professor, Hasso Plattner Institute, Germany.
Technical Program Co-Chair: Michel Beaudouin-Lafon, Professor, Université Paris-Sud, France.
Communities
You may have a look at those sketches from Makayla Lewis summarizing some of the sessions: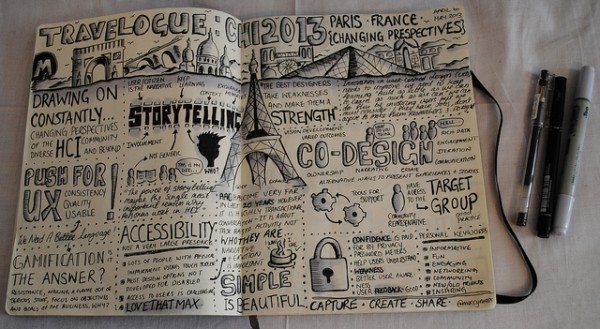 Other related links:
Visualization Papers at CHI 2013
Another interesting sketch, about innovation.
A CHI 2013 trip report by Paul Groth
Folks to follow:
Paolo Ciuccarelli ‏@pciuccarelli
Jan Willem Tulp ‏@JanWillemTulp