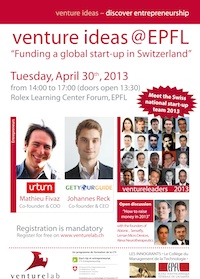 On the 30th of April, a Venture Idea event took place at the Rolex Learning Center in EPFL Lausanne.
EPFL and EPFL Parc Scientifique have their own Triskel capture station and webcasting platform to webcast those presentations. More details about our Triskel product at Klewel.
Introduction by Hervé Lebret & Jordi Montserrat about Venture Lab, Venture Kick and other means to help entrepreneurs going from idea to company.
Keynote by Mathieu Fivaz (co-founder Urturn/Webdocs)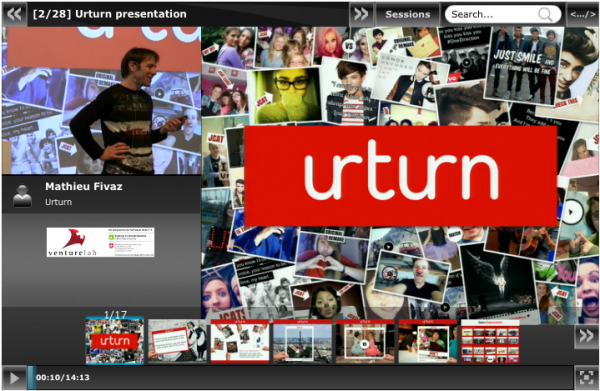 UrTurn is a social media service and is a playful way to share your unique view of the world with friends, followers and celebrities. Urturn lets you instantly express yourself and join in the fun in new creative ways. Article about UrTurn in venturelab, inno-swiss, le temps, startupticker ictjournal bilan 24heures
The 20 winners of ventureleaders
Pitch: Koubachi by Philipp Bolliger
No green thumb? Koubachi is a free interactive plant care assistant available as iPhone App or Web App! Never again forget to water or fertilize your plant!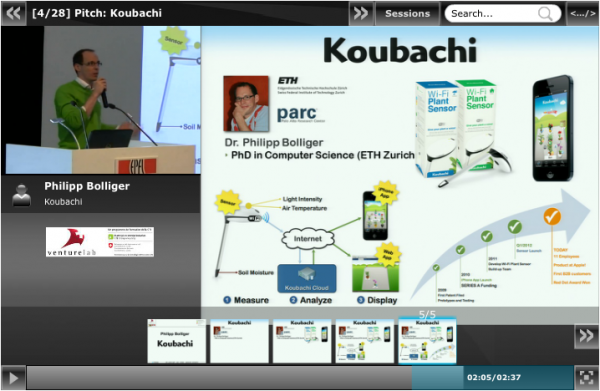 NanoLive by Yann Cotte
Nanolive is a disruptive world exclusive technology that enables to discover the inside of a living cell in 3D.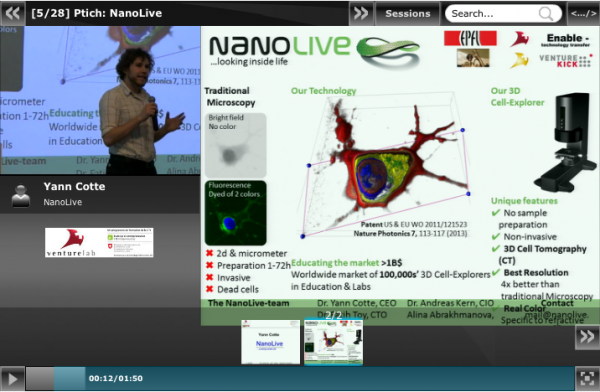 Bluetector by David Din
A sustainable way to treat wastewater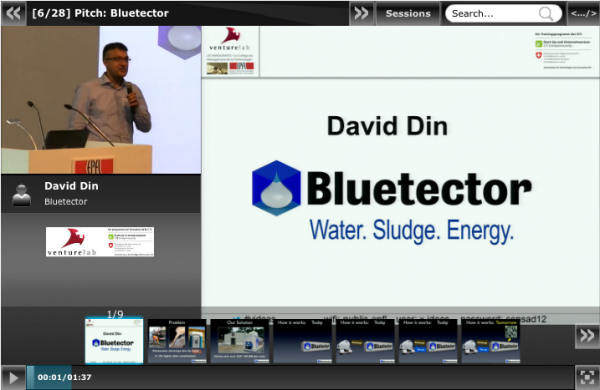 Faveeo by Alexis Dufresne
Faveeo is a collaborative web and social media monitoring platform that maximizes the speed in which valuable information is discovered, filtered, and distributed inside companies.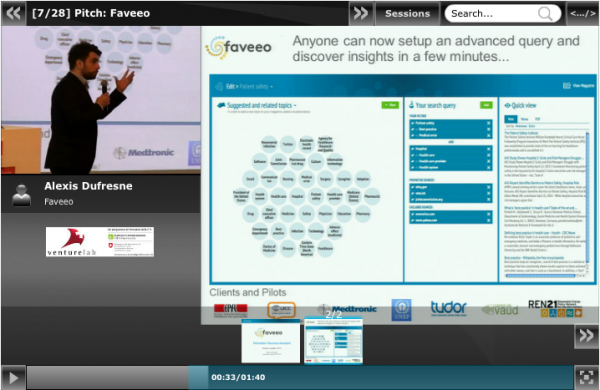 Quantitative Energy by Gaël Farine
Quantitative Energy develops a miniaturized gas quality sensor that is small and cost-effective enough to be integrated to gas appliances increasing safety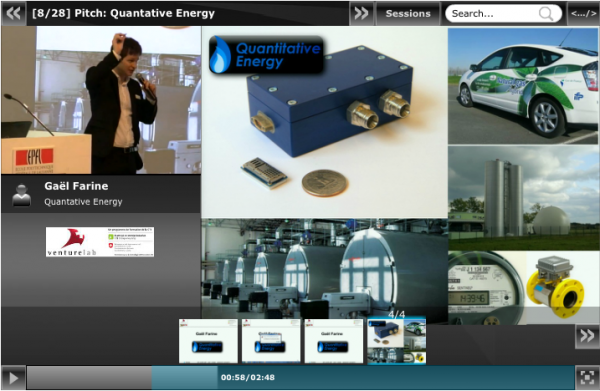 ReHaptix by Marie-Christine Fluet
Assessment test to rapidly and objectively evaluate arm and hand sensorimotor functions after a stroke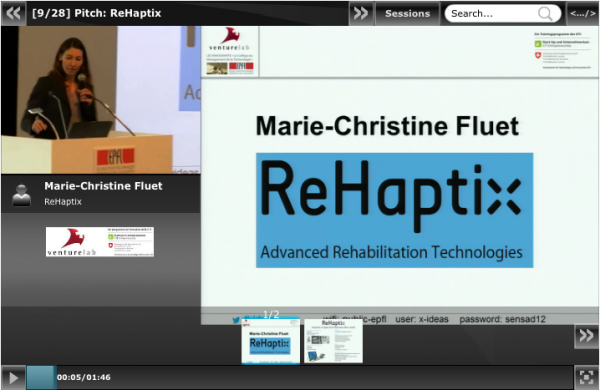 Adello by Mark Forster
focussed on mobile advertising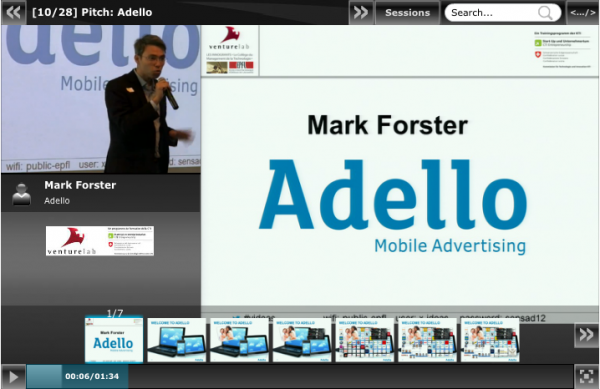 AgriCircle by Peter Fröhlich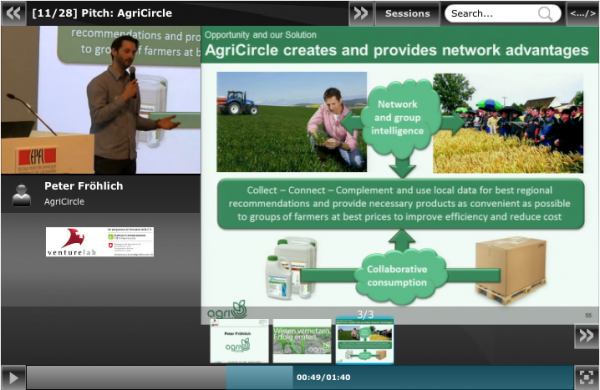 SwissLeg by Paulo Goncalves
Provides low-cost, high-performance artificial leg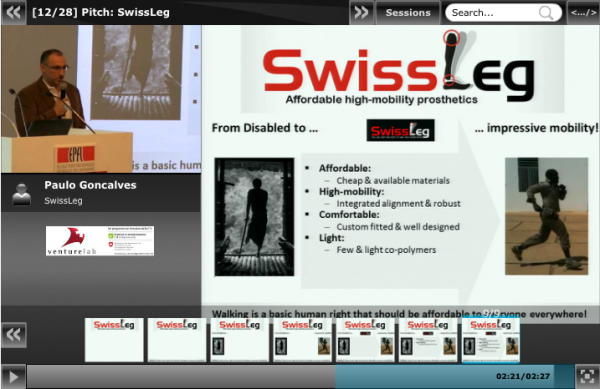 Relief Therapeutics by G. Hédou
Development of a new cure for diabetic neuropathy.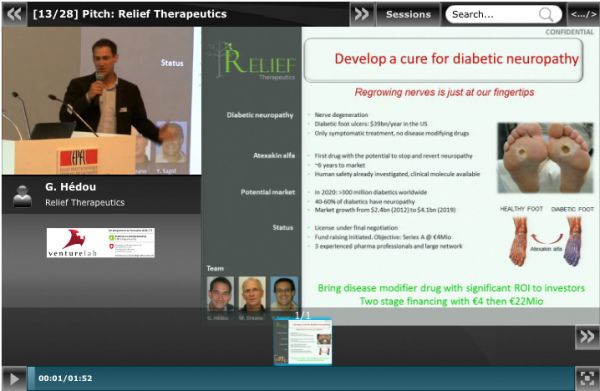 A very interesting summary about the series A financing statistics of Abionic by Nicolas Durand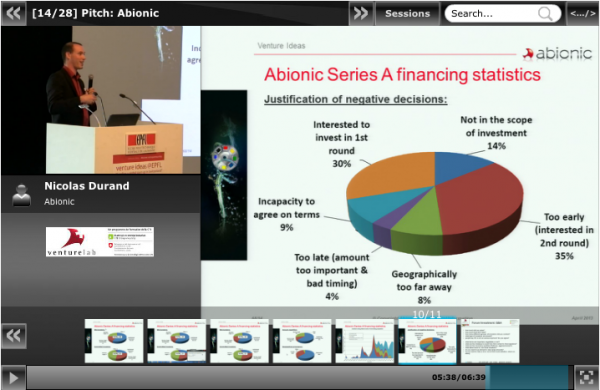 Round Table about start-up investment: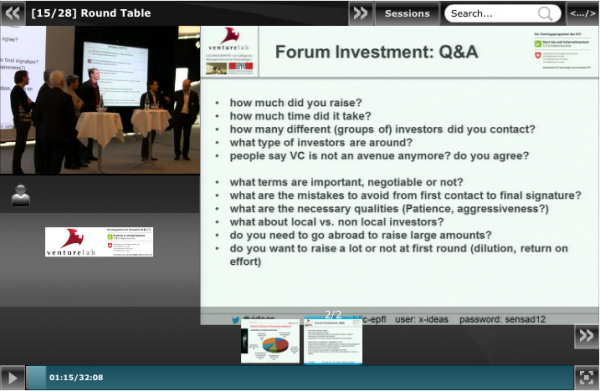 SwissLitho by Simon Bonani
Their product, The NanoFrazor Explore, is a breakthrough technology for fabrication of nano meter sized, 3D shaped devices and structures.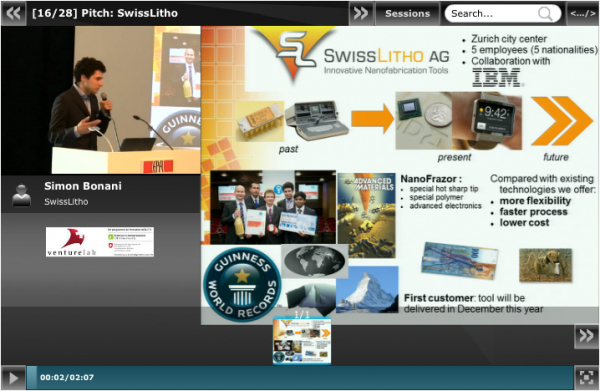 Shoelace Wireless by Lorenzo Keller
Shoelace Wireless develops cooperative networking technologies that boost the performance of proximal group applications on mobile devices.

Notching down Cancer by Rajwinder Lehal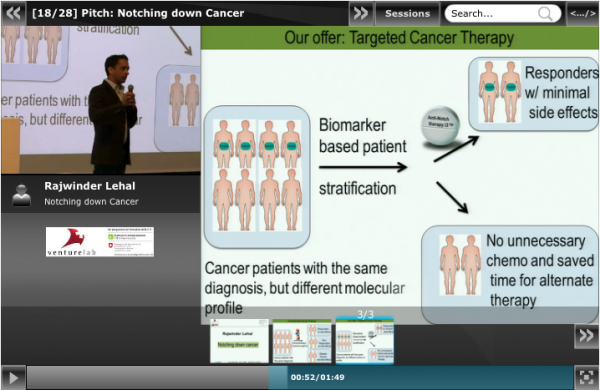 SmartCardia by Srinivasan Murali
SmartCardia is developing a new medical technology for remote monitoring of heart patients.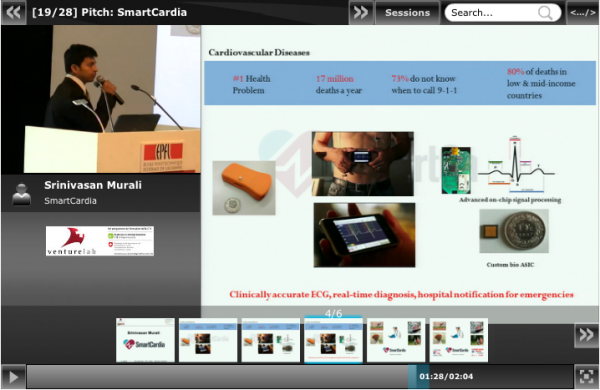 Upicto by Fabian Nater
Webcam video processing to automatically spot events and provide stunning overview of the scenes.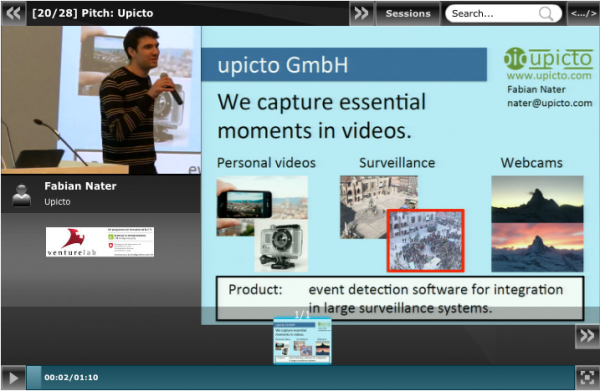 FlatBread Evolution by Carlos Ruiz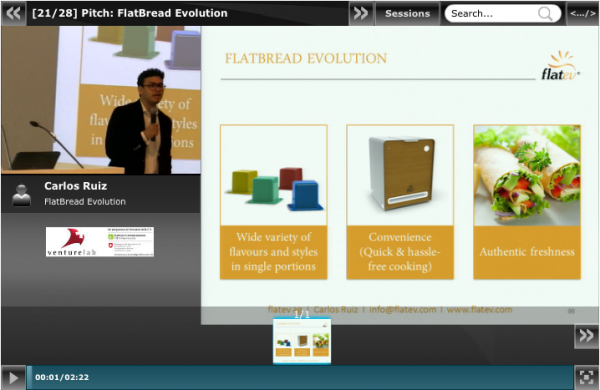 Sight.io by Appu Shaji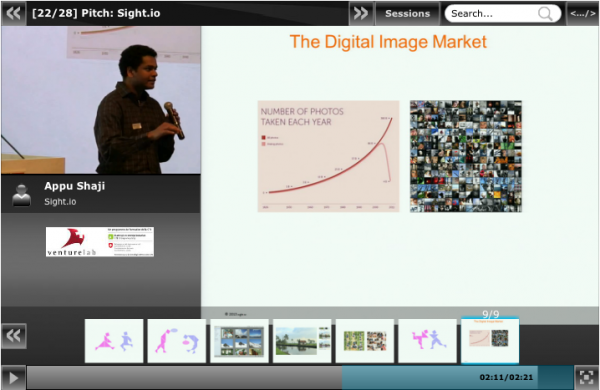 Terria Mobile
Their product LaunchBase™ allows you to efficiently develop, launch, update and manage mobile apps across multiple platforms.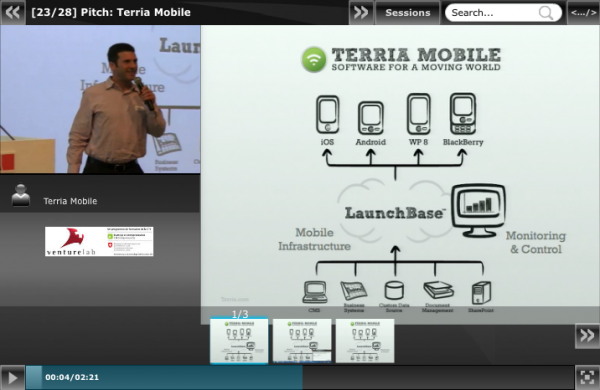 iQA, Automated Software Testing Service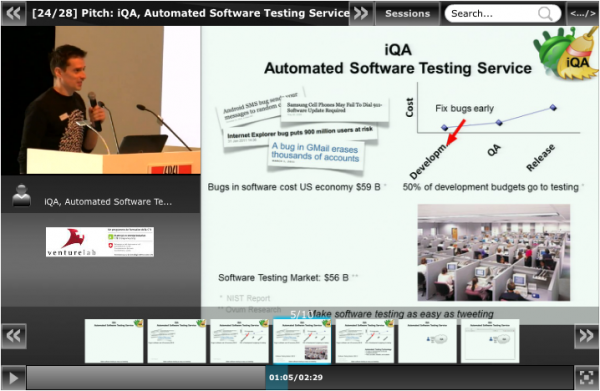 Keynote: the real story behind GetYourGuide by Johannes Reck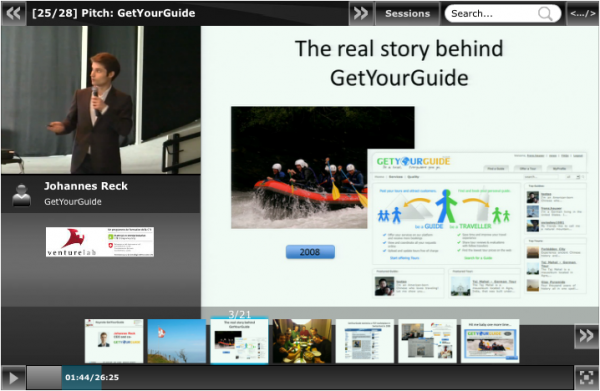 Take aways:
Slide 11: key factors of success: Team 40%, Execution 40%, Luck 15%, Idea 5%.
Lessons learned:
1- don't chase the money, chase the dream!
2- you always win in a team – you never win alone.
3- focus on culture from day one
4- Serve your customers and they will become your strongest advocates
5- Never underestimate network effects
6- There is no silver bullet!
7- Life is great – live your dream
Helbing Innogrant presentation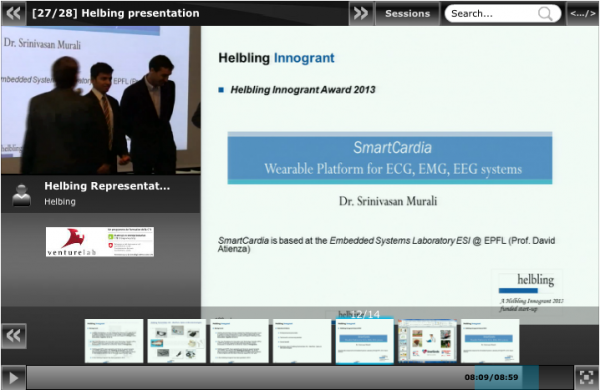 The laureate of the Helbling Innogrant 2013
Awards and conclusion by H. Lebret & J. Montserrat
EPFL and EPFL Parc Scientifique have their own Triskel capture station and webcasting platform to webcast those presentations. More details about our Triskel product at Klewel.