Last Thursday was a very proud moment for Klewel. I can honestly say it was the start of a new era. The new era began yesterday by the public release of Triskel v1.0. This has been a long time coming, but nothing beats the feeling of achievement when you finish something that you have been working on for years. I asked Vincent Bozzo, the responsible for technical developements at Klewel to share some of the insights about the development, what this means for Triskel owners and his personal feelings about this tremendous achivement:

Vincent: "It has been more than 3 years of work to develop a software that is user-friendly and everything is automated in a sense that no manual editing is needed. One of the ways to imagine Triskel solutions is as a "chain".  It goes from the capturing (with Triskel capture station) of a conference, workshop, symposium or any event that may be, to the delivery of the conference on the player and webcast it essential on the internet. Without the v1.0, the processing and editing part was done semi-manually. For our existing customers already owning a Triskel station, and for future ones of course, it means a lot more freedom. Triskel owners are now able to manage the flow from the capture to the end delivery entirely by themselves, without having to possess a degree in media editing. Finishing the v1.0 is very important because I've spent quite a lot of time during my career at Klewel doing the manual processing steps. So, I know how much work it is and how long it takes for an operator to webcast a conference. Therefore, I clearly see the added value of a user-friendly interface that we developed.
For me, it is a huge achievement. In 2010 when we started this project, we originally thought it would take a few months to complete. However, as we later realized, we were completely underestimating the technical complexity of it. It was a long and elaborate development and I'm glad to have reached this step. For me this is not the end. It's quite the opposite; it's the very beginning of a new era!"
To show you what we mean when we say user-friendly, we would like to show you some of our new features:
Simple and fast editing
You can easily select your recordings after you enter the web interface. You can group them in any order you prefer, create a webcast and edit all this in a very short amount of time. You can preview your work and publish the results instantly. To manually do all this would take weeks even for professionals. With
Triskel solutions
, it can be done in less than hour, by anyone… Can we call it groundbreaking?! I strongly hope so…  What makes this even more convenient that the editing is non-destructive. It means that you can always go back and edit again anything, anytime.
Slide removing
Our experience in the field of event capturing taught us that some projected slides were not intended to be shown where or how they were shown during the presentation. One example is when the speaker goes forward by more slides than they need to and then have to go back, or the slides do not appear yet when the speaker is already talking. Which might not be so unpleasant during the actual conference, but it can be very disturbing during the recorded webcast. We implemented a simple way to remove all those unwanted slides in seconds while keeping the original message untouched.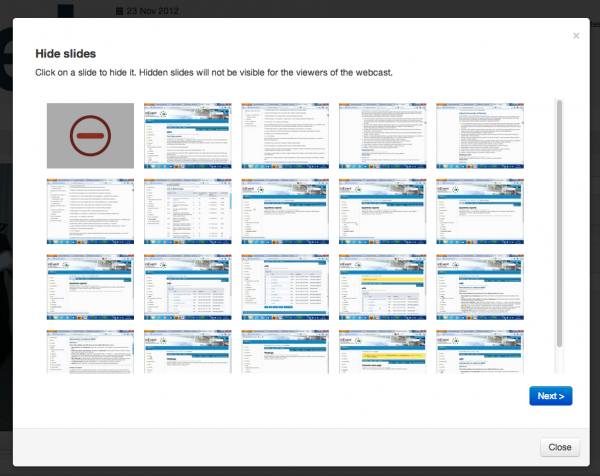 Recording trimming 
It might happen that the operator of the capture station starts/stops a recording session incorrectly. For instance, he starts to record a few seconds to early or lets the applauses at the end a little bit longer than expected. We implemented a feature to trim the recordings, so the unwanted parts can be removed at the beginning or at the end.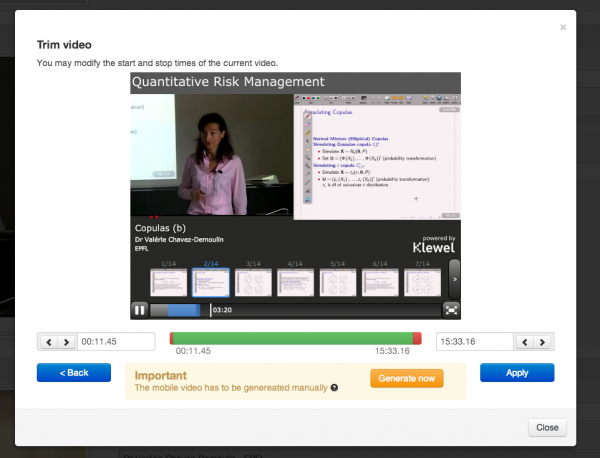 Many more features to come… Let the new era begin!