This week, I am bringing great news to the audio-visual agencies that have been spending hours and hours on publishing a webcast. It only takes a few clicks! It is not weeks and weeks of indexing and sequencing the audio, video and slides, so they all correspond. With Triskel Capture Station, you record the audio, the video and the slides and then you log in to our editing software. The best thing is that it is so easy that any individual, without a background in media editing can do it. From my personal experience, it is pretty much like an online shopping experience: You select the recordings that you would like to include in your webcast, you give a name to it and then you publish it. I will take you through it, but I have to warn you that it might take me longer to explain than actually publish a webcast. Let's start! You have recorded an event with Triskel Capture Station, which finished about 5 mintues ago, let's say. You have your own username/password to log in to our web-based editing software. Once you logged in, there will be a screen with the different webcasts recorded by you. It will look like the following: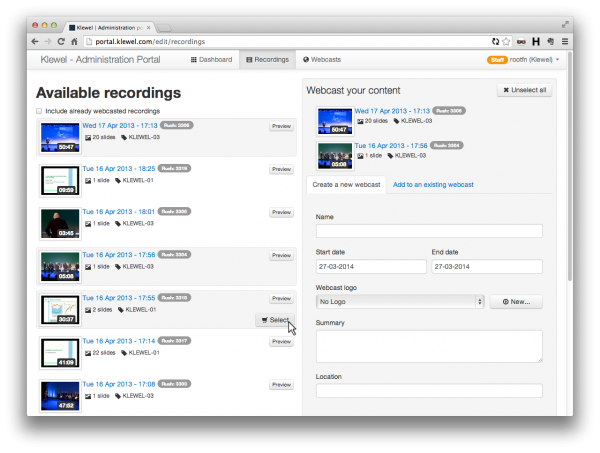 As the little cursor shows you, you just have to click on the webcast that you would like to select to appear online. Once you have done that, you  will have to name the webcast that is being published, or maybe upload the client's logo to show on the webcast. Now, you will stay on this same screen, but for making it easier, I am demonstrating this with a different picture. so it is easier to see that on the righthand side, there is a box for naming the webcast, adding location, uploading a logo, etc.: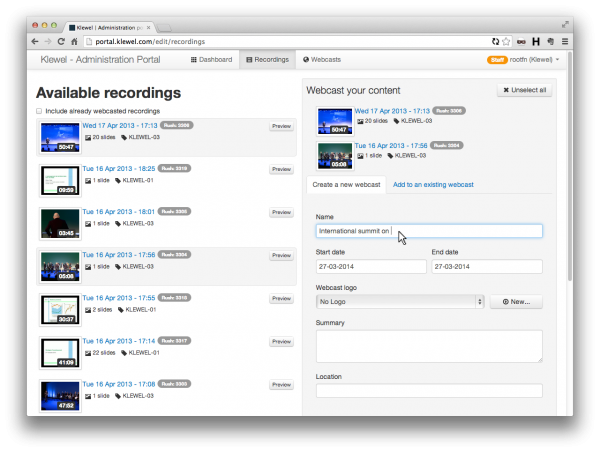 After that you have only one step left. To decide if this content will be published public or private, like this:

That's it. You are done. Since the system is non-destructive, you can always go back, select different recordings and publish it again as the same or as a different webcast. As many times, as you would like. The time-saving side of the system is a very welcome effect next to all the user-friendly editing and innovative solution that Klewel is presenting with Triskel.