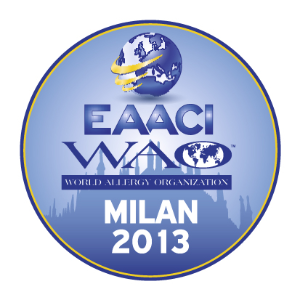 More than 7700 delegates from 110 countries participated in the Congress which offered a scientific programme with 425 speakers in 341 sessions.
Reflecting the Congress Theme: Allergy, A Global Health Challenge, the Scientific Program Committee compiled an out-standing program which has build on and enhance the high quality of educational content from previous Congresses. World experts in the field will share their research, knowledge and experience in addition to younger presenters – the next generation – who were given a platform for their innovative work. The EAACI-WAO Congress 2013 has been the most important meeting for advances in research, treatment and prevention of allergy and asthma in 2013. It was quite simply a Congress that could not be missed.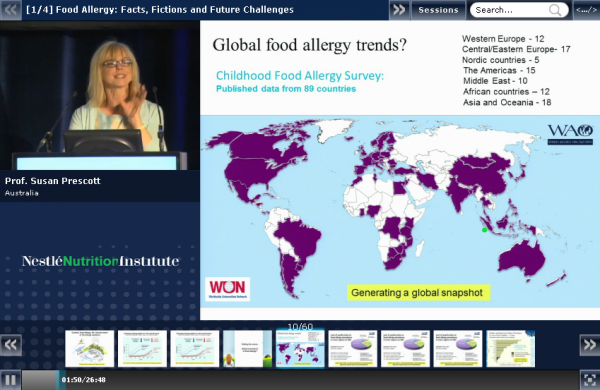 Asthma is a common chronic inflammatory disease of the airways characterized by variable and recurring symptoms. Common symptoms include wheezing, coughing, chest tightness, and shortness of breath.
Asthma is thought to be caused by a combination of genetic and environmental factors. It is clinically classified according to the frequency of symptoms, forced expiratory volume in one second, and peak expiratory flow rate. Treatment of acute symptoms is usually with an inhaled short-acting beta-2 agonist (such as salbutamol) and oral corticosteroids. In very severe cases, intravenous corticosteroids, magnesium sulfate, and hospitalization may be required.
Symptoms can be prevented by avoiding triggers, such as allergensThe prevalence of asthma has increased significantly since the 1970s. In 2011, 235–300 million people globally have been diagnosed with asthma, and it caused 250,000 deaths.
The synergy provided by this joint Congress of the European Academy of Allergy and Clinical Immunology (EAACI) and World Allergy Organization (WAO) offered a special opportunity in 2013 to reach a bigger and wider global audience at the largest congress of allergists and related specialists, as well as general practitioners in the world.
Klewel proposes a comprehensive webcasting solution, complete with an audiovisual recording station linked to a web platform that makes it possible to auto- matically reference, edit and publish content (audio, video, slide shows) in total simplicity. In addition, the content of each presented slide is also indexed.
Each event is accessible anytime, anywhere (at home, at the office or elsewhere) and can be viewed on all types of media: computer, mobile phone, tablet, etc.
You can:

Picture at a social event in Milan during the congress: