The 1st edition of the biggest conference about Google technologies took place on November 26-26 2016 in Zurich, or close to Zürich in Rapperswil exactly on the other side of Zürich's lake.
Google Developers Group (GDG) – is an open and volunteer geek community who create projects and share experience about Google technologies with a passion. In this post, we will try to give you a flavour of what happenned. If you were a speaker or participant, do not hesitate to let us know your point of view by sharing as comment your own report and feeling about this event.
"Rockstar" speakers in this specific domain within Computer Science were present :
Gema Parreno Piqueras from Tetuan Valley / Madrid, Spain  (on LinkedIn, on Twitter, on Medium) talked about the Limbic system using Tensorflow.
Related information: an introduction to Tensor Flow
Tensorflow is a high and complete open source software library for neural nets and reverse engineering. The talk summarizes the use for affective computing and the data structure and architecture for an artificial limbic system.
Matteo Bonifazi, Technogym /Cesena, Italy (on Twitter, on LinkedIn) who talked about Firebase a new platform.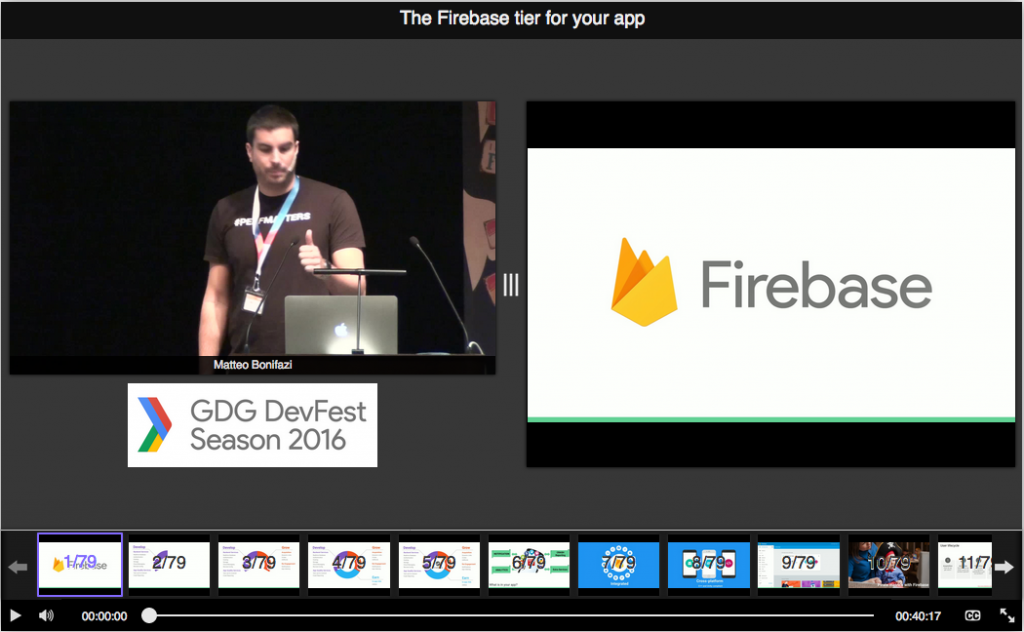 TensorFlow was originally developed by researchers and engineers working on the Google Brain Team within Google's Machine Intelligence research organization for the purposes of conducting machine learning and deep neural networks research, but the system is general enough to be applicable in a wide variety of other domains as well. Today available as an open source framework, it easily gives to many people the opportunity to develop their own artificial intelligence architecture.
Mihaela Rosca, working at Google DeepMind, explains us how TensorFlow works, and in which situations it is usefull: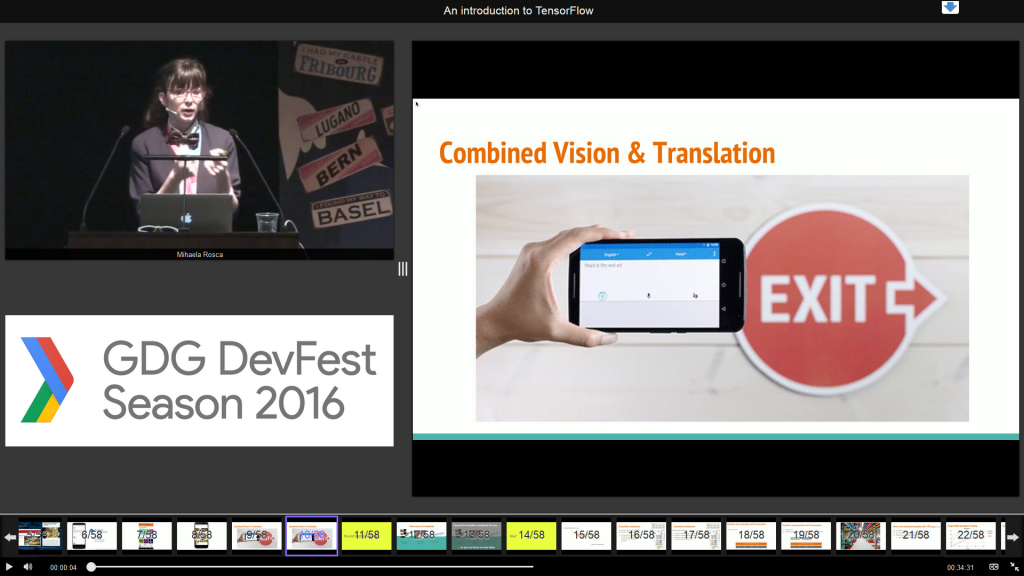 Her related talk at Idiap during the Deep Learning workshop.
Christoffer Noring, OVO Energy / London England talked about "Firebase with Angular 2 – the perfect match".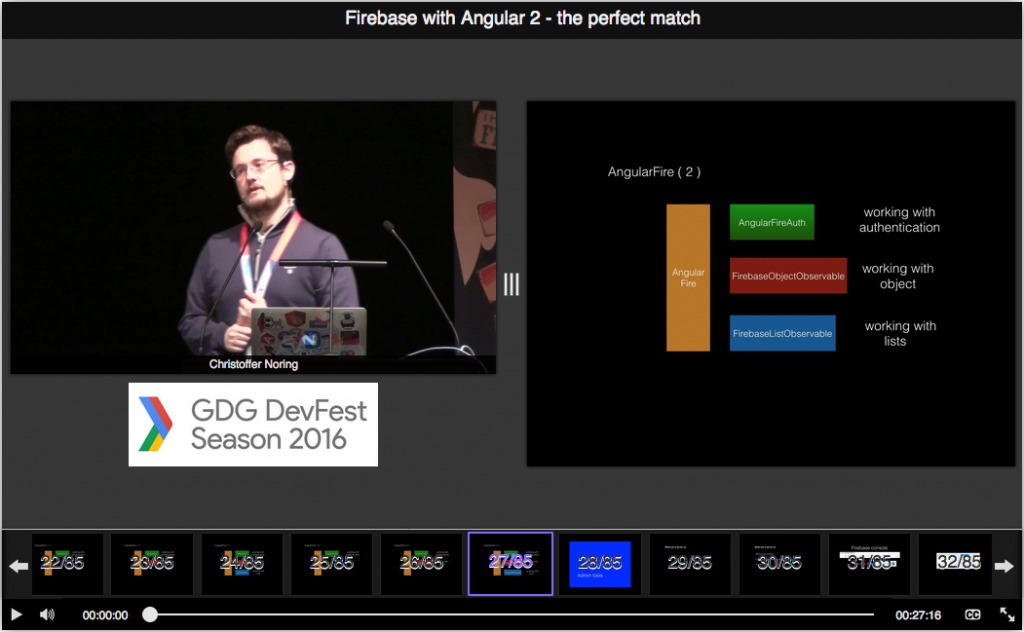 Firebase started in 2011 as a database in the cloud that could push changes to all clients. It is a fantastic tech that let's you focus on building the app will it handles the backend while also bringing you reactive behaviour. This talk aims to cover app building as well as authenticating with social login.
Here is another interesting topic and use case : Artificial Intelligence at Swisscom – presented by Andrea Hossmann , Swisscom Bern. This talk was about why Swisscom is interested in Artificial Intelligence with some examples of products Swisscom is developing.
Google can be described in one mission statement, which is the first sentence you will find on the home web page of the company: "Google's mission is to organize the world's information and make it universally accessible and useful." (here: https://www.google.com/about/company/ )
Therefore, Google's search engine uses a variety of methods to determine which pages are displayed first in the results. Their exact formula is a secret, but there are always a few things you can do to improve your rank in Google search results, as John Müller from Google-Zürich explained in this fascinating talk: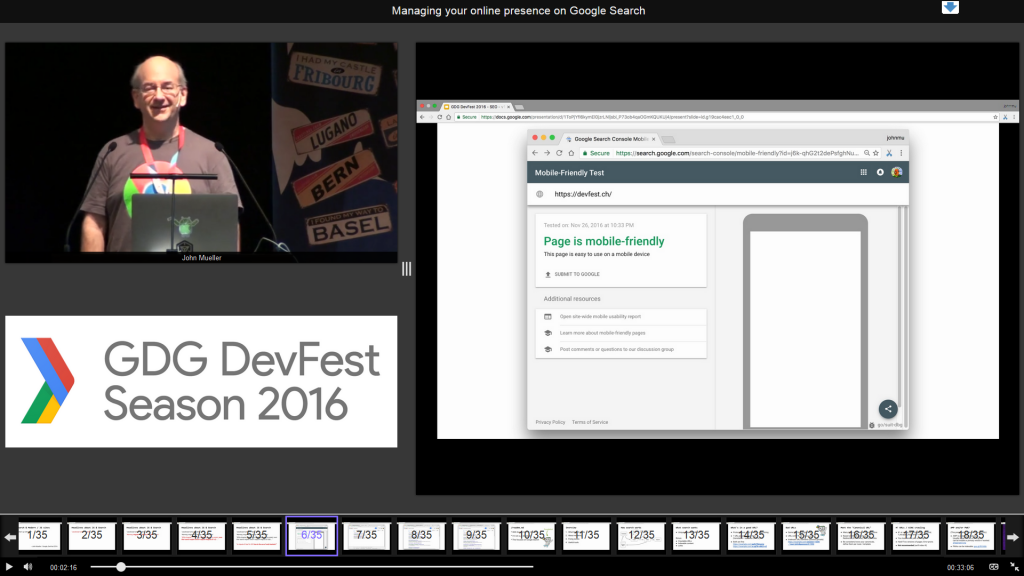 Dr. Sandy Ingram, now Professor in computer engineering at the University of Applied Sciences in Fribourg with a strong experience in Human Computer Interaction and Web development attended the conference. She gives us her testimony :
I have benefited a lot from attending DevFest. Talks were very well presented and fraught with concrete usage examples. Several interesting topics were covered including Web frameworks, mobile user experience design, and machine learning. I particularly enjoyed  Christoffer Noring's talk on Firebase with Angular2, Michael Rosca's talk on Tensor Flow, Lorica Claesson's talk on Animations for a better user experience, as well as Andreea Hossmann's talk on Artificial Intelligence at SwissCom.