EPFL inaugurated recently a new ambitious incubator: the Swiss EdTech Collider. The particularity of this space is its dedication to companies active in the field of (Digital) Education. Grouped together, entrepreneurs will be able to exchange ideas, resources, and experiences, while benefitting from visibility. Klewel was invited to join and is happy to be part of this adventure from the start, along with about 30 other companies, non-for-profit structures and entrepreneurs.
The afternoon before the formal inauguration, each member had the opportunity to give a short pitch about what they do and why they are part of it. We were in charge of recording and webcasting on demand the pitches: both in front and behind the camera somehow:
The Swiss EdTech Collider is Switzerland's first collaborative space dedicated to entrepreneurs somehow transforming education and learning through technology. Although technology will not solve everything. This is why for instance MOOCs have their limitations. Same thing about meeting & event technology. Technology is a complement, a tool but not a replacement to learning methodologies and pedagogical approaches. Human has still a major role to play! A lot is currently happening in the area of Learning and Development within corporates, for instance the internal "ENT academy" initiative at Swisscom. At least there is a strong awareness on the importance of training employees and citizens in this changing digital world. This is the reason why the Centre patronal created a series of conferences about the 4th revolution also webcasted by Klewel.
Located in the EPFL Innovation Park just a few steps away from EPFL's Center for Digital Education, they provide a modern coworking space to their members ranging from early-stage to established startups. Unlike a classical startup incubator or accelerator program, they offer ongoing support and access to edtech experts, industry leaders and investors.
Vision
Bringing these actors together and helping them thrive by offering a collaborative space and building a strong support ecosystem, can significantly contribute to the development of the Swiss education and learning technology sector.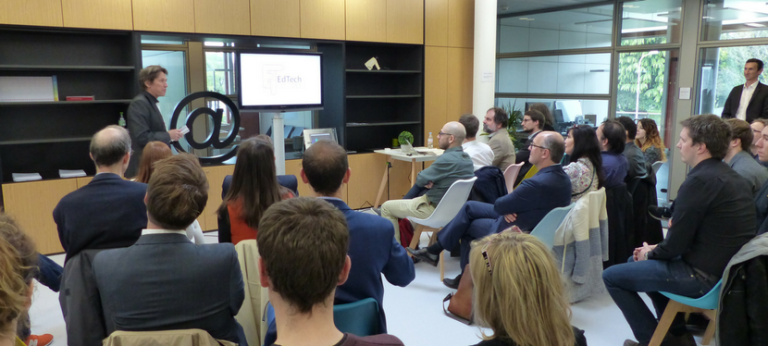 I would encourage you to have a look at them. I tried to classify them below so that it is easier to identify the ones you could be interested in.
Platforms especially targeted for Corporates and organizations:
Especially targeted to schools and students:
Based on Virtual Reality or Augmented Reality technologies:
Dedicated to kids:
At Klewel, we believe in life long learning. The boundary between conferences and education is getting more and more fuzzy. For instance, medical congresses are a way for medical doctors to get their annual accreditations which are linked with the evaluation of their learnings. Education is at the dawn of a large transformation, like the meeting industry.
In a recent presentation by Prof. Pierre Dillenbourg, he emphasized the importance of practicing and training between two MOOC videos. Part of the secret of learning would therefore "simply" be in the activity and interaction of the learner with real practice exercices.
More information about it
On the Swiss newspaper Le Temps:
Thank you for the great article @letemps @SwissEdTech #edtech pic.twitter.com/s93etpvsGo

— Swiss EdTech Collider (@SwissEdTech) April 28, 2017
The Swiss EdTech Collider is not the only initiative about Technology enhanced Learning. For instance Uni-Distance together with Klewel and Idiap are also working on technologies to enhance learning experience.
About Klewel:
Klewel offers the latest end-to end webcasting services. This allows your events and lectures to be shared publicly or privately, to give your organization the visibility for events and lectures on the basis of a totally innovative IT solution, which automatically records and indexes all the content (audio, video and slides) presented at conferences and university lectures. Audio streams, video content and slides shows are stores in a synchronized manner. As an optimal blended learnig solution, Klewel's vision is to democratize lifelong learning via technology-mediated instructions. Klewel gives long term value to lectures, worshops, symposia, conferences, congresses of all sizes. Do not hesitate to contact us!
Photo Copyright: EPFL – Alain Herzog