The FIVB (Federation Internation de Volley Ball) mandated Klewel to webcast live and on-demand their 32nd world congress held in Roma, Italy.
Rome, Italy, September 8, 2010 – The first ever FIVB Congress Workshop to be held in the history of the FIVB was successfully held on Wednesday on the eve of the FIVB Congress at the Rome Marriott Park Hotel in the Italian capital with more than 100 up and coming federations represented.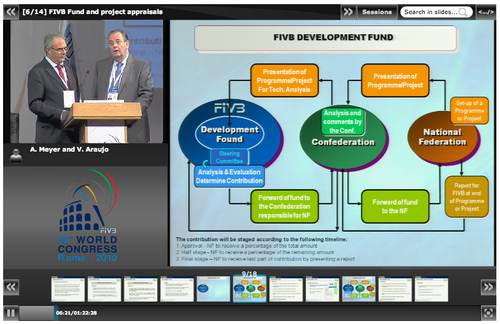 The open discussions and question sessions of the FIVB Congress Workshop provided solutions, suggestions and proposals to assist federations with growth and development within their countries while presentations on the FIVB Development philosophy, World Vision 2012, the FIVB Continental Beach Volleyball Cup, the FIVB Development Fund and management planning for a national federation were also made. The Congress Workshop concluded with presentations from four federations – Trinidad & Tobago, Thailand, Senegal and Liechtenstein – who were successful in their own development and growth plan.
9-10 September: World Congress – Session 1, 2, 3 & 4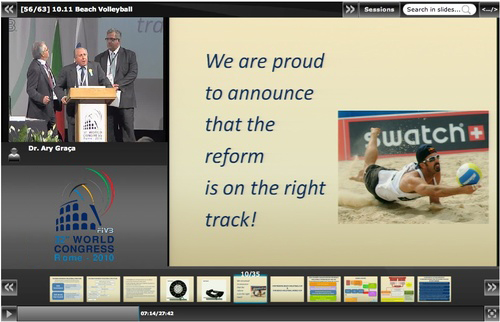 Rome, Italy, September 10, 2010 – The 32nd FIVB World Congress drew to a close in Rome, Italy on Friday with the 195 federations approving a new election process for the FIVB President elections in 2012 and the confirmation of new Financial Regulations being the standout decisions on the final day.
"We have worked hard, we have taken some significant decisions," FIVB President Mr. Jizhong Wei told the 195 member federations. "But now the true hard work starts. Over the course of the past two days and the week as a whole we have set the path towards a stronger future, a future hinged on development. The federations have now the tools to obtain growth and the FIVB will support them every step of the way. The past two days have shown how democratic and transparent the FIVB now is, many voices make us stronger. We are a family and together we are stronger entity and the sport will benefit as a whole."

"We will help you more but the development of Volleyball in your country depends on your proper effort," FIVB President Mr. Jizhong Wei said