Martigny, November 19th 2010. Klewel announces its presence at the essential worldwide exhibition for meetings and incentive travel, the EIBTM 2010 in Barcelona.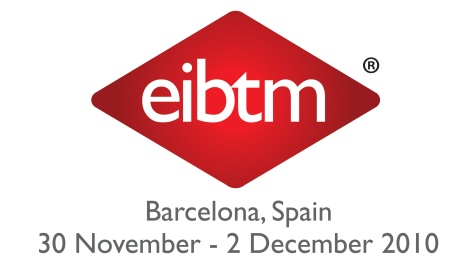 Continuing its efforts of entering into the meeting industry, Klewel confirms its presence at the industry's most important annual trade fair, the EIBTM '10 in Barcelona, Spain. Klewel will be present at the Tech Tap stand (O275). The EIBTM Tech Tap showcases new innovative technology solutions for the meeting industry and is supported by the Meeting Support Institute (MSI, https://www.meetingsupport.org).
Klewel is a member of MSI, underlining the importance of the meetings and events sector for its newest services and products. Advantages for event organizers include enhancing the networking experience for all attendees, seamless exchange of contacts and data files, and creating rich branding opportunities for sponsors.
The Klewel service is gaining significant traction in the events and corporate space, helping customers such as Nestlé, the United Nations, the World Business Council for Sustainable Development, the International Ecole Hoteliere of Lausanne, the Geneva Motor Show scientific conference and the Open University to extend online their high quality events.
Klewel will join several innovative European startups at EIBTM including Amiando, Poken and SpotMe in the Tech Tap showcase. This trend is indicative of how technological innovation is driving major changes in the Meetings and Events industry. We believe there is significant interest in interactive webcasting and sharing video content from archived events by both event organizers and attendees. Klewel is well-positioned to service that need by providing hardware and software to enhance interactivity after the event."
If you are an attendee of EIBTM 2010, please stop by the Klewel booth at the Technology Village, stand (O275). If you are a Hosted Buyer, feel free to set up an appointment with Klewel through the EIBTM official webpage. The Klewel Sales Team will be on hand to provide a detailed introduction to Klewel services and products!
If you would like more information about Klewel, please visit the Klewel website at https://www.klewel.com
About EIBTM:
EIBTM is the leading global event for the meetings and events industry, held in the vibrant business and tourism destination of Barcelona. The event delivers three days of focused access to a dynamic business environment, thought provoking professional education and business networks for exhibitors, Hosted Buyers and trade visitors.
About Klewel:
Klewel provides leading edge solutions for efficiently capturing, archiving and searching the information contained in multimedia digital recordings of presentations and conferences. With Klewel your event can easily be recorded and available. The capture infrastructure is very user-friendly, easy to use, transportable, and non-intrusive. Klewel distillates automatically the core messages of the speaker from data as raw as audio and video streams thanks to fast indexing technologies. Klewel makes the knowledge of the speakers available to anybody through natural language queries as simple as those that everybody uses to find web pages with your favorite web search engine.
Klewel, Rue Marconi 19, 1920 Matigny, Switzerland, www.klewel.com
FOR MORE INFORMATION CONTACT:
Maël Guillemot
KLEWEL
T: + 41 (0)27-722-43-42
M: + 41 (0)76-521-09-82
contact@klewel.com